On November 29, the second Tsinghua University SDG Open Hack held its finals. Divided into 20 sub-tracks, the hackathon was held across different schools and departments of Tsinghua University. Tsinghua SIGS organized 6 sub-tracks, and saw more than 300 participants joining both online and offline. SIGS Associate Deans Zuo Jian'e and Ma Lan attended the event.
The hackathon challenge focused on Sustainable Development Goals (SDGs) of the United Nations, and participants formed teams to develop innovative solutions for challenges related to their chosen theme. The competition aimed to promote the SDGs, encourage open and innovative collaboration among students from different universities and backgrounds, and improve students' leadership, creativity, teamwork and global competence.
Photo of online and on-site participants
"The SDGs have become an issue of global focus, and is a hot topic of discussion in many universities. The 24-hour Open Hack will test your ideas, strengths and patience. I hope that you will challenge traditional methods of thinking, expand your horizons, and contribute to the sustainable development of the world," said Associate Dean Zuo Jian'e in his address.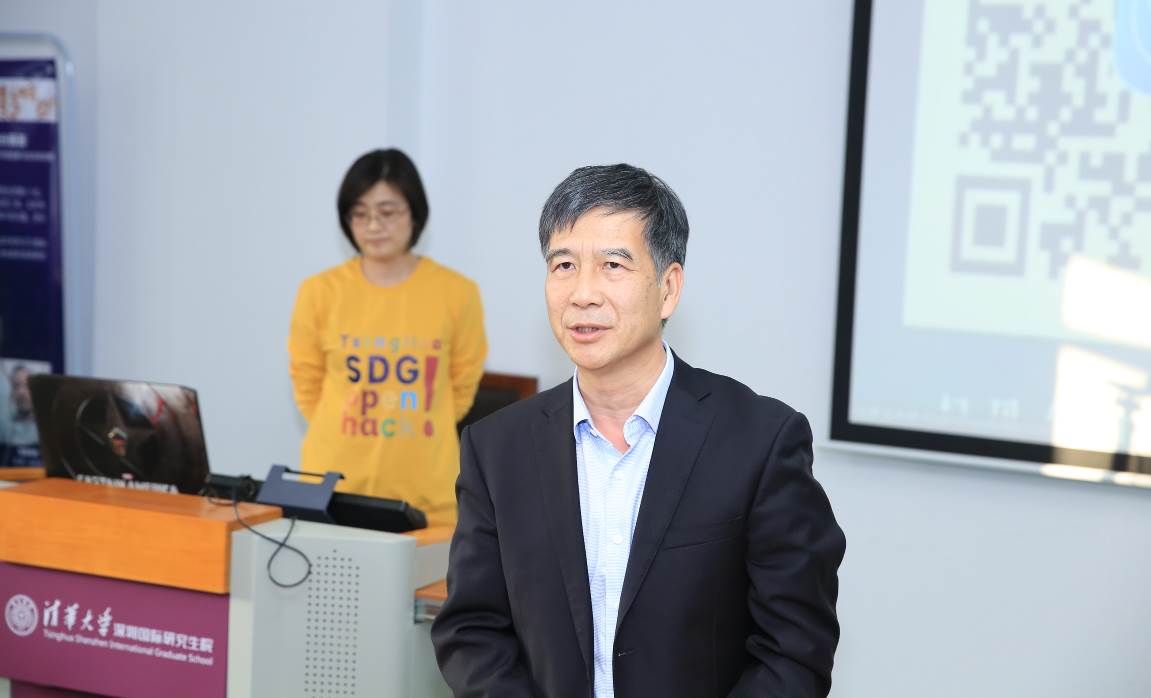 Zuo Jian'e giving his address
In the competition, more than 50 teams focused on six topics of "Challenges and countermeasures of global emerging pandemics", "Development of more environmentally and socially responsible batteries and applications", "Digestive health and smart technology", "Healthcare and Biochip Technology", "Intelligent construction for safe living", and "Information Technology Innovation for Healthy and Sustainable Communities".
Teams were guided by Hack Leaders including Associate Dean Ma Lan, Materials Science Associate Professor Lv Wei, Biopharmaceutical and Health Engineering Associate Professor Wu Jian, Chemical Biology Associate Professor Tan Ying and Assistant Professor Li Xinghui, Associate Professor Nie Xiaomei in the Design field, and Information Technology Associate Professor Yang Wenming, as well as 18 entrepreneur mentors such as Alibaba Cloud Operations Director Kong Fansheng. Working together, students were able to gain valuable advice to refine their project plans.
Hack Leaders at the SDG Open Hack
Teams developing their projects

In a mere 24 hours, teams considered aspects of feasibility, sustainability, innovation and technology, and came up with a series of novel solutions to address global challenges. They focused on issues such as water safety, global vaccine transportation and distribution, mental health, pandemic testing and screening, medical resources, and many other topics. In the finals held at the Tsinghua University site, teams from Tsinghua SIGS took home 3 major awards.
A team that developed a mobile water purification device addressing water safety challenges won the Social Impact Award, while "SafeHeart Technology", a team targeting elderly healthcare issues won the Most Innovative Technology and Most Investment Value Awards.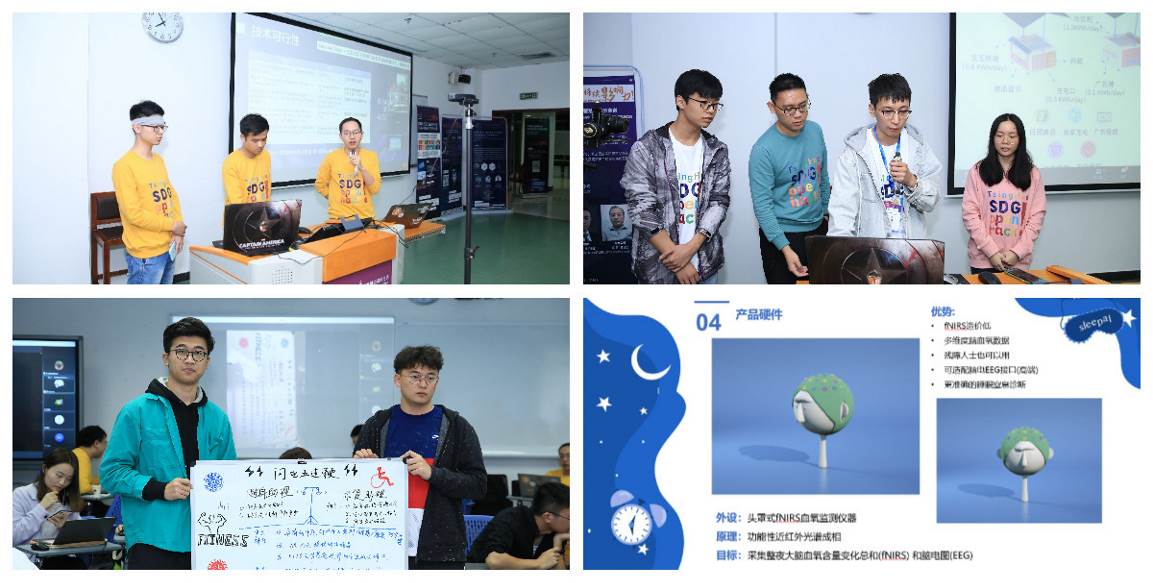 Groups showcasing their projects
"The Open Hack was exhausting but also very rewarding. From defining the problem to proposing a solution, the final product was a collective effort of our whole group," Tan Yang, participant at the SDG Open Hack.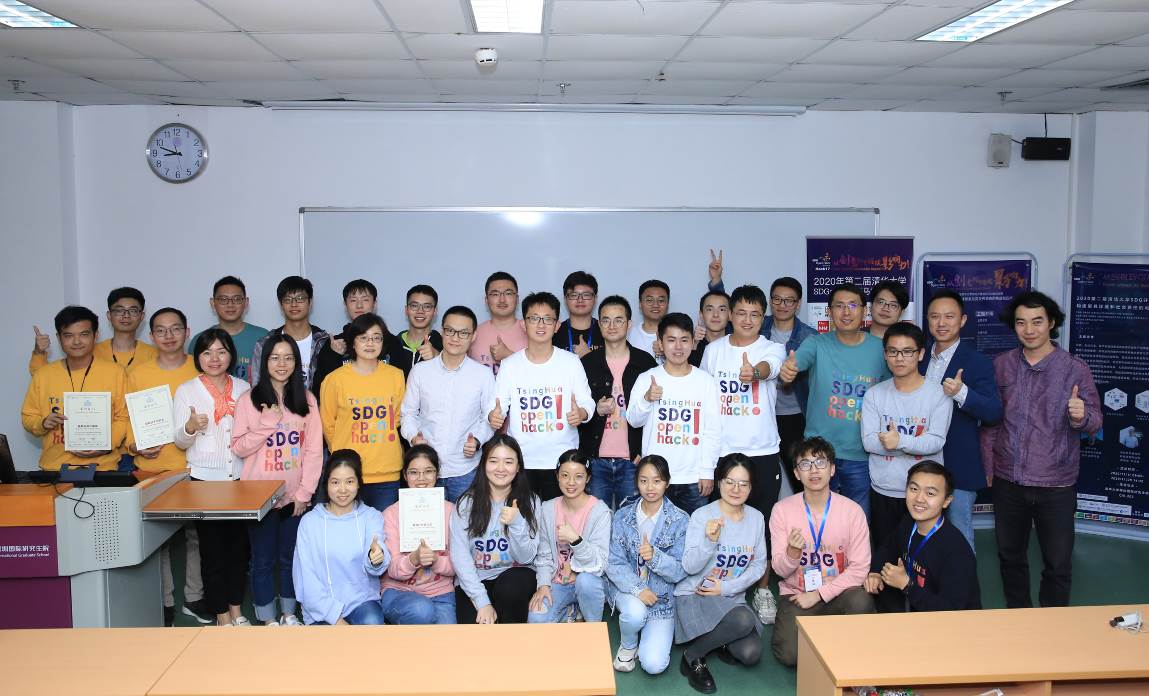 Participants and staff of the SDG Open Hack

Photos: Innovation and Entrepreneurship Center
Editor: Karen Lee