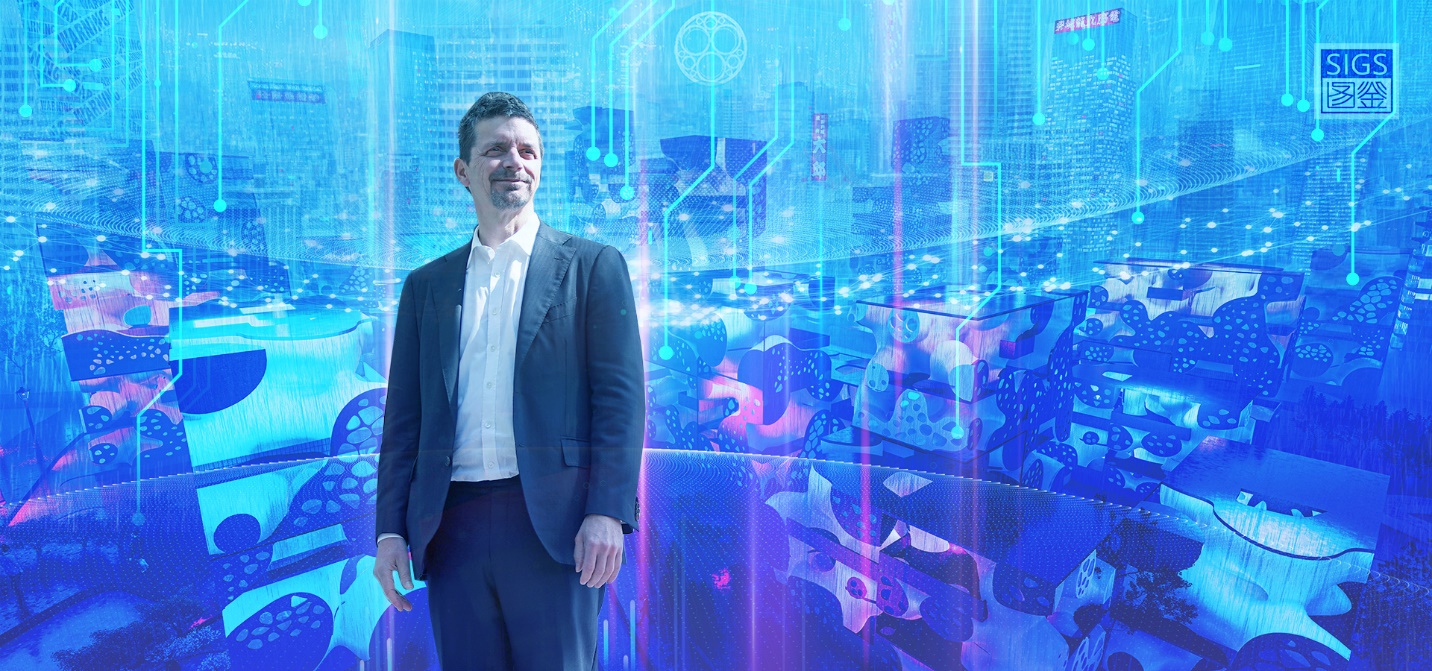 In 2020, Tsinghua Shenzhen International Graduate School (Tsinghua SIGS) established the Institute of Future Human Habitats (iFHH) and welcomed Professor Peter Russell, Canadian architect, educator, and researcher as its inaugural Dean. Based on the intersection of architecture and related disciplines in the 21st century, iFHH will focus on the frontiers of future human habitats and take design thinking as the core innovation power to create more intelligent and sustainable built spaces. Before joining Tsinghua SIGS, Russell has served as Dean of the School of Architecture at RWTH Aachen University in Germany and Delft University of Technology in the Netherlands, leading both faculties in advancing architectural education. He has also participated in many fruitful projects in China, such as designing an interactive-city-game as part of the Chinese-German pavilion at the Shanghai Expo 2010.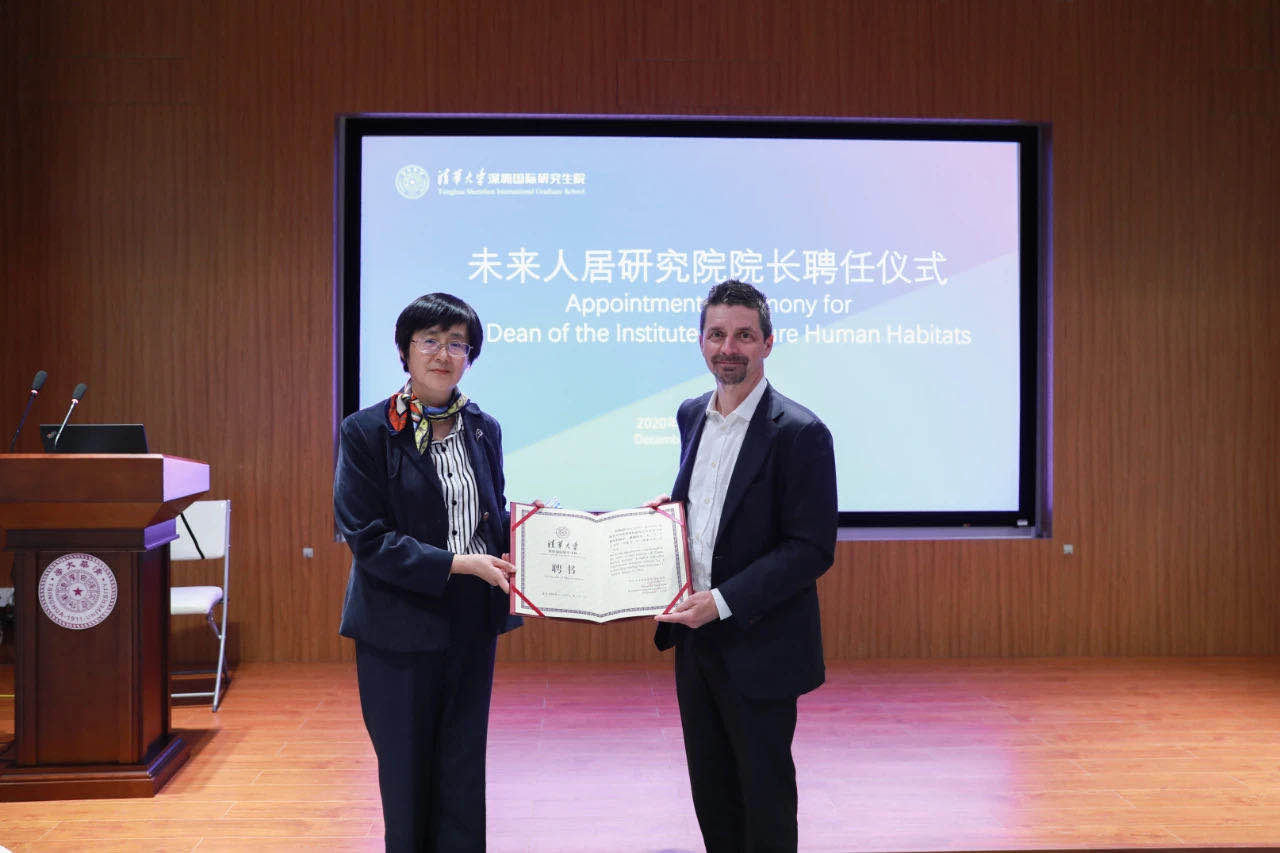 Executive Dean Gao Hong (left) presents a letter of appointment to Professor Peter Russell.
SIGS: Can you tell us more about the newly established iFHH and its first cohort?
Russell: We are creating here a brand-new school of architecture in the world. iFHH is based on borderless thinking, a commitment to digitalization, and interdisciplinary research. The borderless premise of Tsinghua SIGS and iFHH provides a great opportunity for us to redefine architectural education and the cross-discipline skillsets that architects need so that they are better prepared for solving present-day problems.
In 2020, we welcomed our first cohort of 23 students into iFHH's architecture program. Coming from 19 cities in China and with backgrounds in urban design, civil engineering, industrial design, and other professional fields, these students all share the urge to make the world a better place through big data and digitalization. We hope to create a program where students will develop and combine other skillsets and passions with their education to become better architects and stewards of the environment.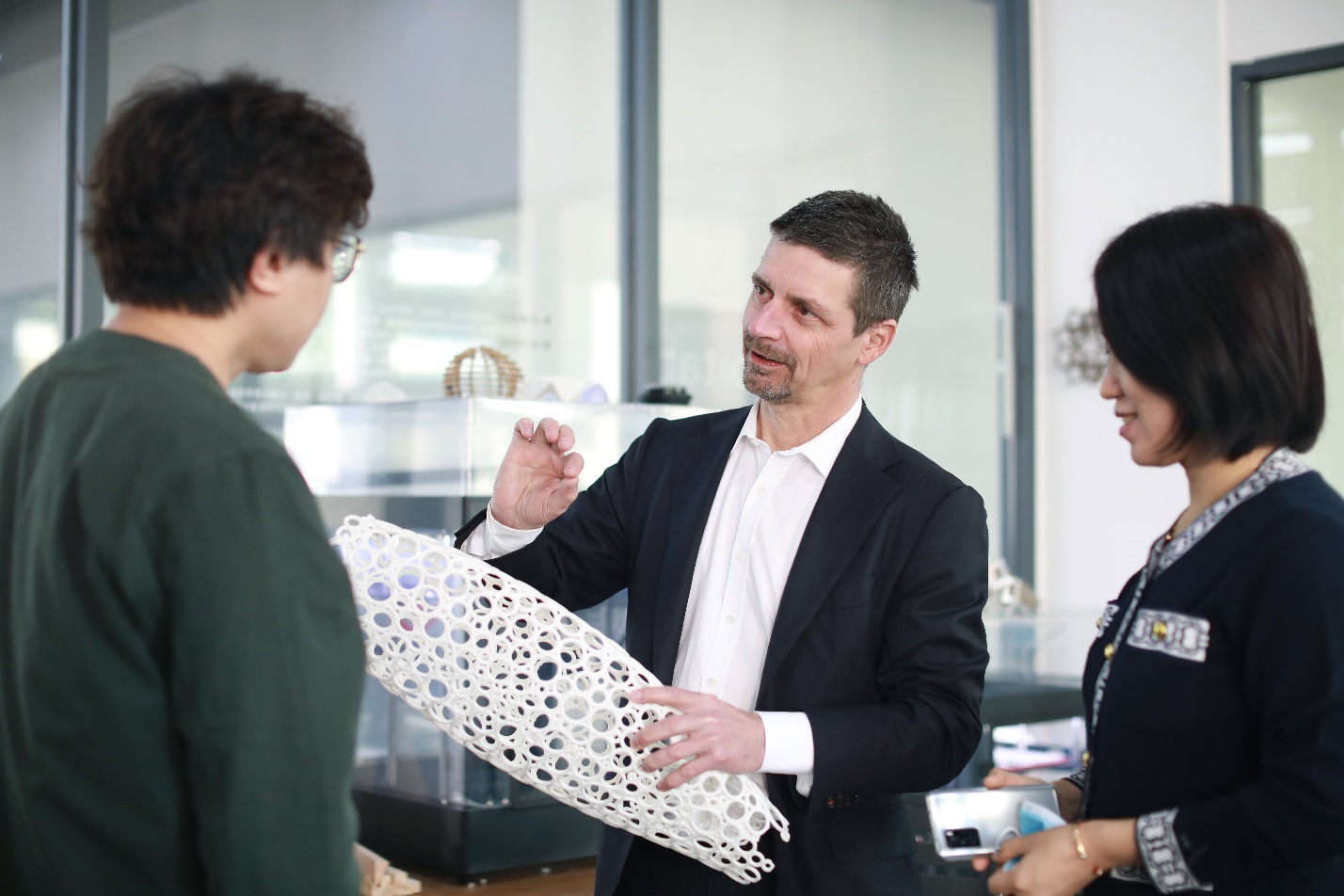 I look forward to teaching and working with these students. Our first cohort is extremely brave for choosing to embark on a newly launched program and I hope to see the collaboration (and collision) of ideas among them.
SIGS: There is a lot of intersection between architecture, technology, and engineering disciplines in iFHH. Can you tell us more about the interdisciplinary learning and research that will take place at the institute?
Russell: Research in the built environment cannot be a singular discipline anymore. We need to combine with other disciplines and schools to conduct our research and figure out how to manage the built environment and steward its development in the best way possible.
Interdisciplinary collaboration and developing lateral thinking are important because architects do not just build; they also need to know how biological systems function, how circularity works in the built environment, and how transportation systems are managed—all these become part of the process when you want to design part of a city.
The institute will be providing an application field for a lot of the fundamental research conducted in the 6+1 theme areas at Tsinghua SIGS. I think it is iFHH's main role to show that we can be inclusive and combine different disciplines to make better solutions. Building upon the excellent foundation that Shenzhen provides, I hope that iFHH will achieve more international collaboration, help Tsinghua SIGS reach its goal as a world-class international graduate school, and serve as a "magnet" connecting researchers in Tsinghua SIGS, universities in China and around the world to build better future human habitats.
SIGS: You have built a long career in architecture and specialize in the development and application of computation in the built environment. What sparked your interest in this field?
Russell: I have always wanted to be an architect. Building things, making cities, and working on projects have always been fascinating to me. Growing up in a family of computer scientists, I was also exposed to computers at a young age before many others had a chance.
When I started studying architecture, I noticed that computers were bringing new changes and addressing inefficiencies in the field. Over the past 200 years, we have been doing things by hand, but now software such as computer-aided design (CAD) and building information modeling (BIM) can help us quantify data and bring structure to information. My passion has thus been to find systematic ways of organizing architectural information to make better buildings.
SIGS: What attracts you to Shenzhen after spending so many years working and advancing architectural education in Europe?
Russell: Shenzhen is a city that embraces the future and provides a perfect environment to conduct future human habitats research. Having visited China several times since 2006, I have witnessed the rapid changes in the country's development and am especially impressed by its technological advances. For example, while there are still communities in Europe that are thinking of going electric in 5 years, once the Shenzhen government has made a decision to reduce carbon footprint, measures are implemented immediately. Now we have built a fleet of over 16,000 electric buses and 22,000 taxis. Such efficient and decisive decision-making has enabled Shenzhen to be a city that embraces the future.
Shenzhen's green initiatives, fast-developing high tech industries, and support for higher education have also created a great environment for the study and research of future human habitats. The attitude here is that if something is coming in the future, we do not want to wait for it. For an architect, it also means that the city is willing to listen to new ideas to improve its built environment. It is a very exciting place to be in.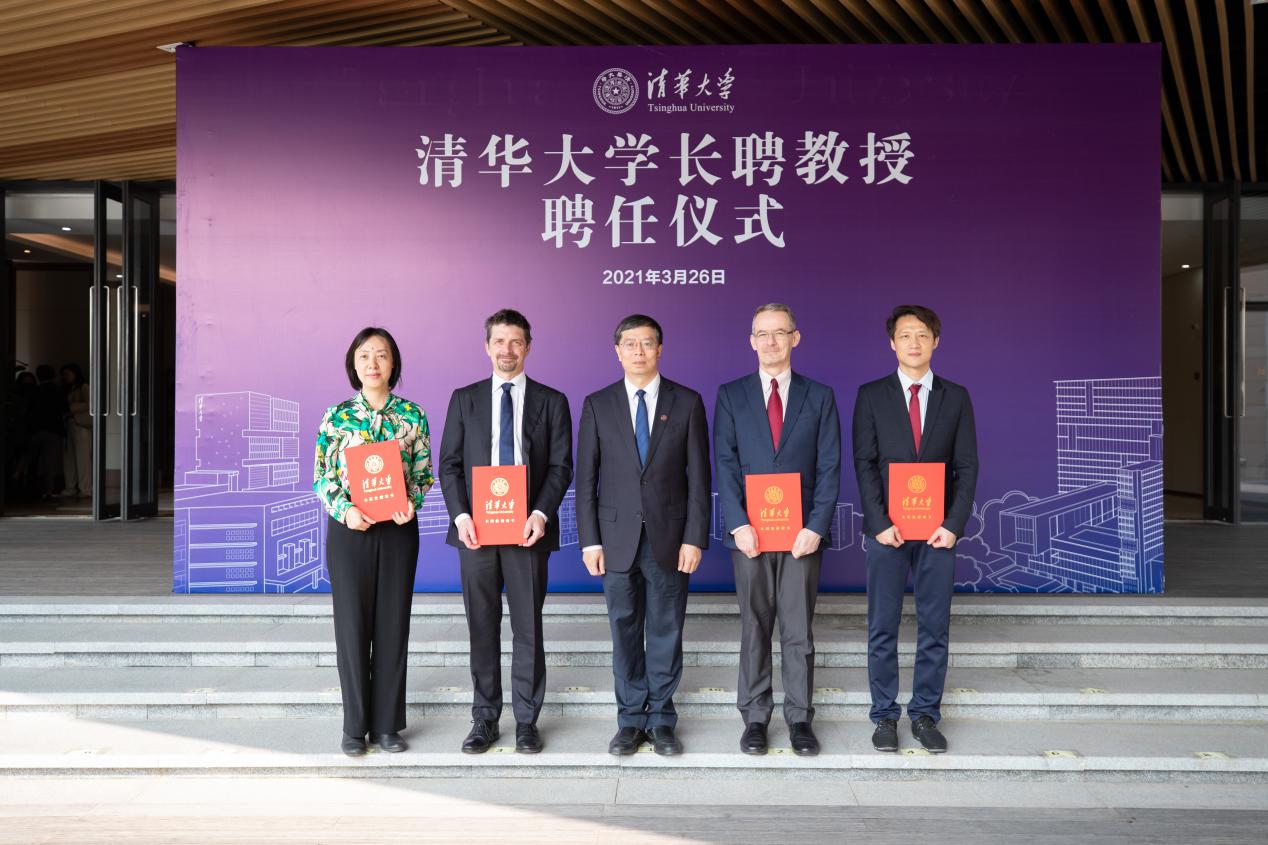 On March 26th, 2021, President Qiu Yong (middle) attended the appointment ceremony of
Tsinghua University's tenured professors (Shenzhen International Graduate School) and issued
a letter of appointment to Professor Peter Russell (second from left).
SIGS: What are your hopes for iFHH and for its students?
Russell: If we want to do anything at Tsinghua SIGS, we want to create a place of safety so that students can feel supported in their pursuits.
Often when you ask beginning students what they want to do or who they want to be, they might not have an answer. However, I think a lot of students actually do know what they like, they just need to be honest with themselves, take the time to experiment, and take a leap of faith. That is key to figuring out who you want to be.
Tsinghua SIGS has been able to show students that there is potential here to follow their own ideas, and I hope iFHH will be a place where students feel that they can get the support, information, and knowledge to pursue their interests—a safe place to take a leap.
In Canada, there is a tradition where an iron ring is conferred to graduating engineers. The circlet of iron goes on the little finger of an engineer's dominant hand as a constant reminder to maintain a high standard of professional conduct in their work. With iron being a strong and durable material, it is also a symbol of strength, representing the power and great responsibility that engineers hold in their hands.
Following this Canadian tradition, I hope to gift our first graduating cohort a ring to remind them of their responsibilities as designers of the future. I hope that our graduates, with their own ring, will carry forth the innovative spirit of Shenzhen and Tsinghua, and devote themselves to making the world a better place for humanity to thrive.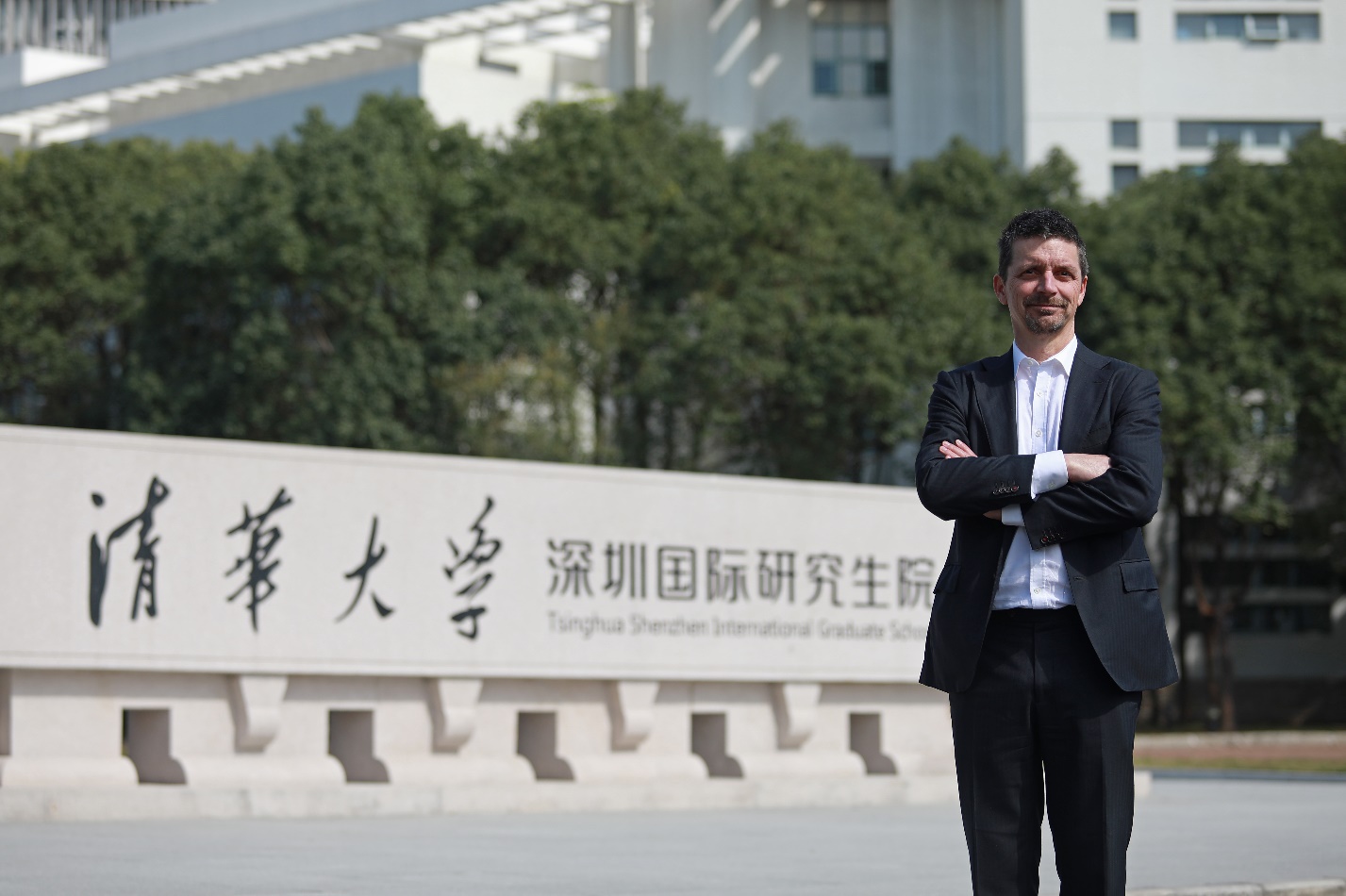 Writer: Karen Lee
Photos: Yu Feihui, Deng Lijun, Ding Chao
Editors: Karen Lee, Sunny Xi
Cover Design: Liu Yutian