The Junzi statue was unveiled on December 12th on the southeastern lawn in front of Building C as part of the celebration for the SIGS 20th anniversary.
Who is Liang Qichao, the man depicted in the statue? Why was his image chosen for the statue? What connection does Junzi have with Tsinghua? How was the statue created?
Today, we share with you the history and creation process behind Junzi.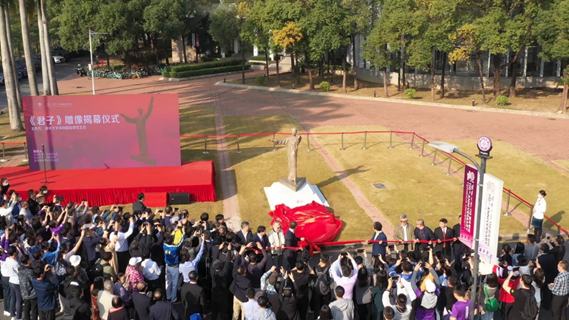 The unveiling of Junzi on campus
Looking at Junzi is witnessing history
The significance of the statue's name goes back over a hundred years.
In 1914, Liang Qichao gave a speech at Tsinghua entitled "Junzi."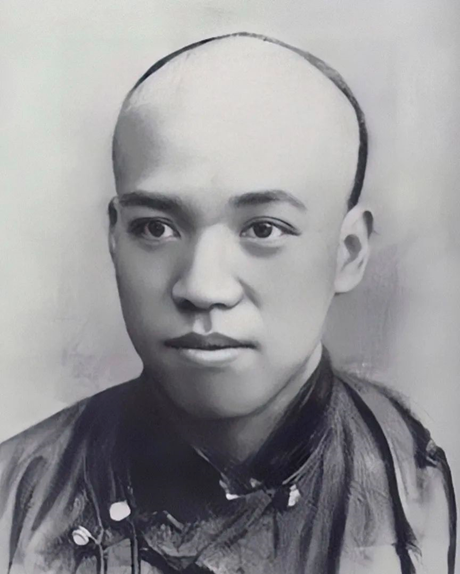 Liang Qichao was originally from Xinhui, Guangdong province. He was a well-known intellectual, educator, statesman, scholar, and one of Tsinghua's Four Tutors in the Institute of Chinese Classics. He also made significant contributions to society and the nation. Liang Qichao strongly supported Tsinghua's emphasis on cultivating well-rounded students who contribute to the nation and on providing a moral education that encourages self-discipline.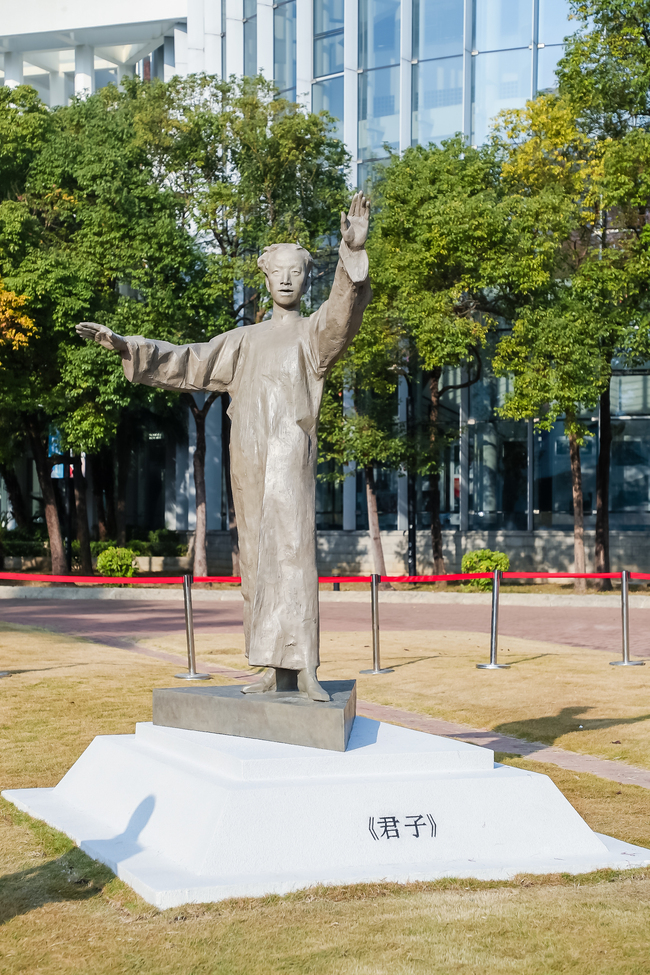 On November 5th, 1914, Liang Qichao was invited to speak by Tsinghua President Zhou Yichun. The speech he made on that day was called "Junzi," or "a person of virtue" in English.
In the speech, he quoted from Zhouyi (The Book of Changes): "As Heaven's movement is ever vigorous, so must a person of virtue ceaselessly strive along with self-discipline. As Earth is vast and grand, so must a person embrace the world with virtue and tolerance." He encouraged students to focus on morality in their studies and to become people of virtue.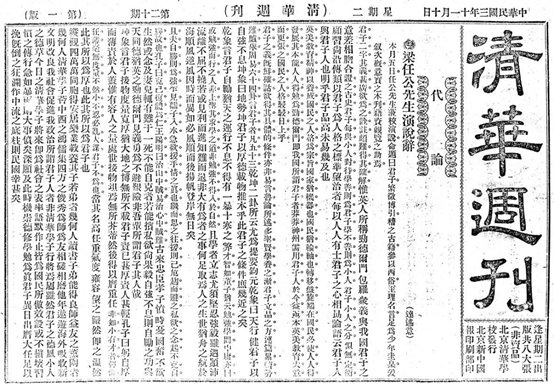 Original transcript of Liang Qichao's speech

At the time of Liang's speech, Tsinghua was sending students to continue their studies in the United States. To Tsinghua and to the country, the personal value system students would develop abroad was extremely important.
With the speech, Liang hoped to give students encouragement and goals for their personal growth abroad.
Later, "Self-discipline and Social Commitment," two words referenced in the quote from Zhouyi in "Junzi," would be written in school regulations and would eventually become Tsinghua's school motto.
In this way, Junzi connects our campus to an important moment in Tsinghua history.

The making of Junzi: capturing a historic moment in bronze
Junzi took sculptor Li He, professor and doctoral supervisor at the Academy of Arts & Design, Tsinghua University, half a year to complete.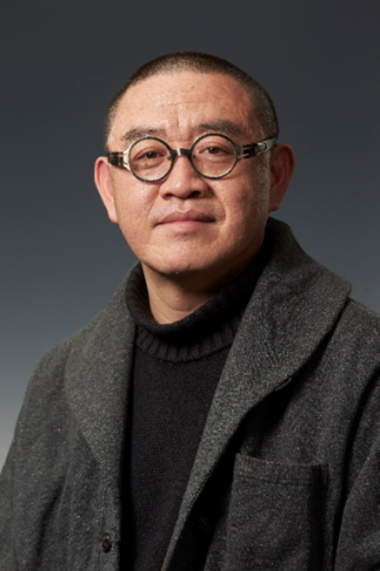 Prof. Li He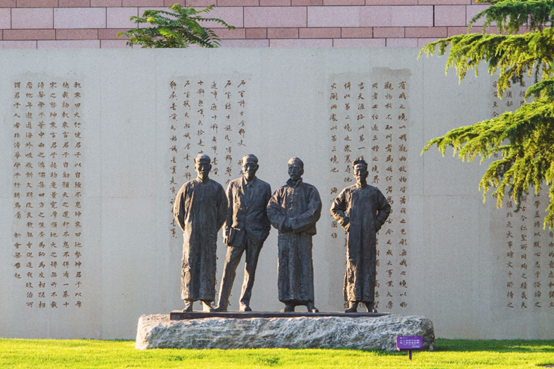 Li He's sculpture of the Four Tutors of Chinese Classics for the university's 100th Anniversary
After receiving an invitation from Tsinghua SIGS to work on the statue, Prof. Li conducted an in-depth investigation, which involved reading historical materials such as A Collection of Liang Qichao's Speeches at Tsinghua University. This collection gave him a lot of inspiration: "Liang Shiqiu, who once listened to Liang Qichao's speeches in person, recalled that he started performing when he got to the most intense parts of his speeches. He often gesticulated with his arms and legs. He would cover his face with his hands, stamp his feet on the ground, laugh wildly, or sigh in disappointment...These words generate mental images that make me feel as if I were there, immersed in the power and passion emanating from a combination of his words and body language."
This became the idea behind the Junzi statue: to depict a captivating moment in Liang Qichao's speeches and engrave it in a dynamic and permanent piece of art.
Throughout the creative process, Li He drew inspiration from the Bagua, or the Eight Trigrams. Liang Qichao's outstretched arms evoke the trigram qian, which represents the heavens and creating; his close-set feet recall the trigram kun, which represents the earth and receiving. These trigrams are the same ones referenced by the quote from Zhouyi that Liang used in his speech. The sculpture not only captures Tsinghua's spirit but also important aspects of Chinese culture.

Another noteworthy piece of the statue is its pedestal, which is triangular and sturdy. These qualities symbolize courage, a courage that Li Qichao hoped to instill in students who listened to his speech.
"Liang Qichao's physical features are distinctive and pretty easy to grasp so people remember them quickly. The tricky part is how to convey his personality," Prof. Li said discussing his creative process.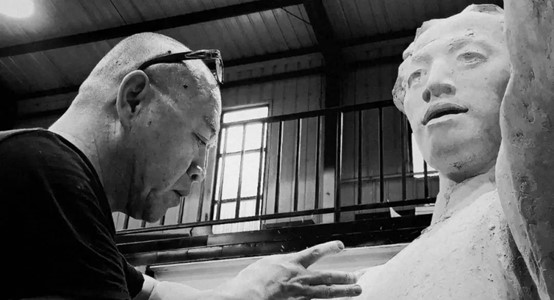 He chose China's traditional sculpture language to depict Liang Qichao with a slightly open mouth and a full chest. These features capture a single moment of Liang's speech. The slightly open mouth seems to be breathing and adds visual vitality to the sculpture.
"Half a year of sculpting created a moment of Liang Qichao's passionate speech. I hope the installation of the sculpture in southern China, where Liang Qichao was born, will carry on the legacy of his speeches and reflect his stature as a master of Chinese classics," Prof. Li reflected.
Junzi and Tsinghua's "Three Treasures"
During the ceremony for the unveiling of Junzi, Tsinghua Vice President & SIGS Dean Yang Bin reflected,"The establishment of the Junzi statue represents the influence of Tsinghua's 'Three Treasures' (its motto, campus, and alumni)."
The donation campaign for the Junzi statue began in April 2021. Three-hundred and twenty members from Tsinghua alumni associations in Shenzhen, Guangzhou, and Dongguan showed their deep appreciation for Tsinghua by donating to the project.
The statue is not only an important part of Tsinghua's history and culture on the SIGS campus but also reflects the commitment of Tsinghua's students, faculty, and alumni to participating in the development of the Greater Bay Area and the Shenzhen Special Economic Zone.
By installing a piece of the Tsinghua motto's history with the support of alumni on the SIGS campus, Junzi perfectly encapsulates Tsinghua's "Three Treasures."
As Liang Qichao's "Junzi" inspired many generations of students, we hope that Junzi the statuewill also encourage and motivate SIGSers for generations to come!

---
Edited by Yuan Yang, Alena Shish & Anthony Abordo