Results are out for the AUA Biodiversity Photo Contest that took place between January and April 2022! Ninety students, faculty members, and staff from twelve AUA member universities submitted over 500 photographs. The contest is part of a number of events discussing critical global and regional challenges for AUA's 5th anniversary.
The theme of the contest was "Community of Life: Biodiversity Through the Lens." It was hosted by the Asian Universities Alliance (AUA) Secretariat and organized by Tsinghua Shenzhen International Graduate School (Tsinghua SIGS). Participants came from Chulalongkorn University, The Hong Kong University of Science and Technology, Indian Institute of Technology Bombay, King Saud University, National University of Singapore, Nazarbayev University, Peking University, Seoul National University, Tsinghua University, Universiti Malaya, University of Colombo, and the University of Tokyo.
Photographs submitted to the contest highlighted unique species, the intersection of biodiversity and modern life, and the co-existence between human beings and nature. In each of the two categories, smartphone and digital camera, six winners were chosen: one first prize winner, two second prize winners, and three third prize winners. HUANG Ziyang won first prize in the digital camera category for The Whisper of Cheetahs while A Green Iguana by LI Jingyuan won first prize in the smartphone category. The first prize photos, along with second and third prize photos (listed below), will be exhibited online on the AUA 5th Anniversary website and in an offline exhibition in Shenzhen organized by Tsinghua SIGS. A number of shortlisted photos will also be displayed at the exhibition and in the contest photo album.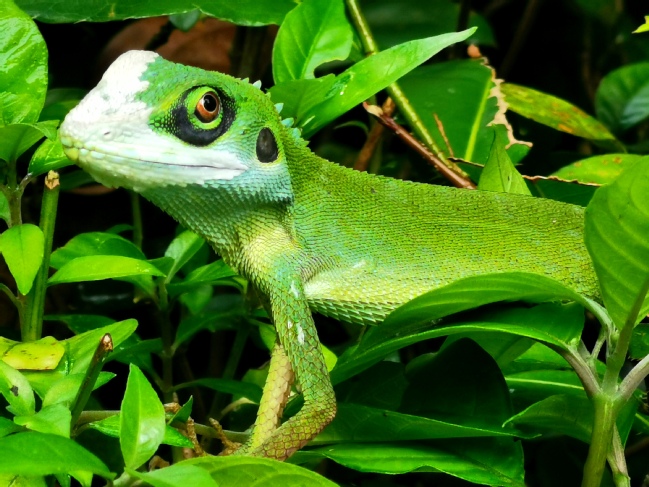 A Green Iguana, first prize photo, smartphone category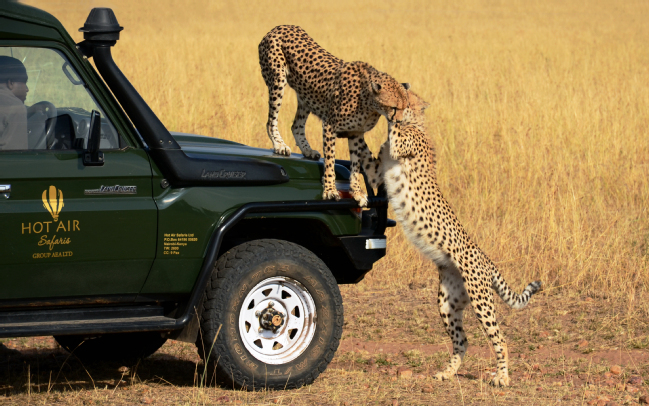 The Whisper of Cheetahs, first prize photo, digital camera category
Reflecting on the meaning behind the photo contest, first prize winner in the digital camera category HUANG Ziyang, a doctoral student from Tsinghua University, shared: "How to draw a line between social activities and nature remains to be pondered over and worked out by humans." First prize winner in the smartphone category LI Jingyuan, master's student from the National University of Singapore, reflected, "As I gained a background in agricultural and biomedical engineering, I realized the importance of biodiversity to human society. Taking pictures without disturbing them is a way to show their beauty and protection for both them and us."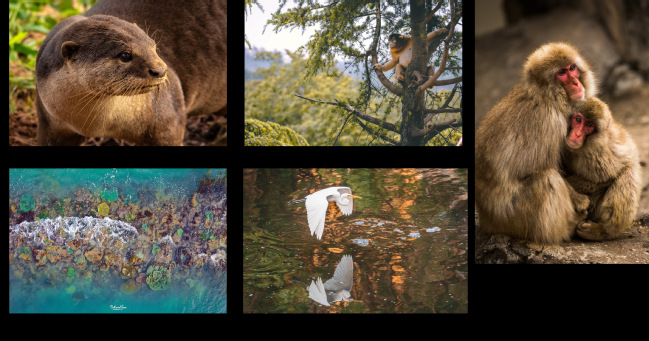 2nd & 3rd prize digital camera photographs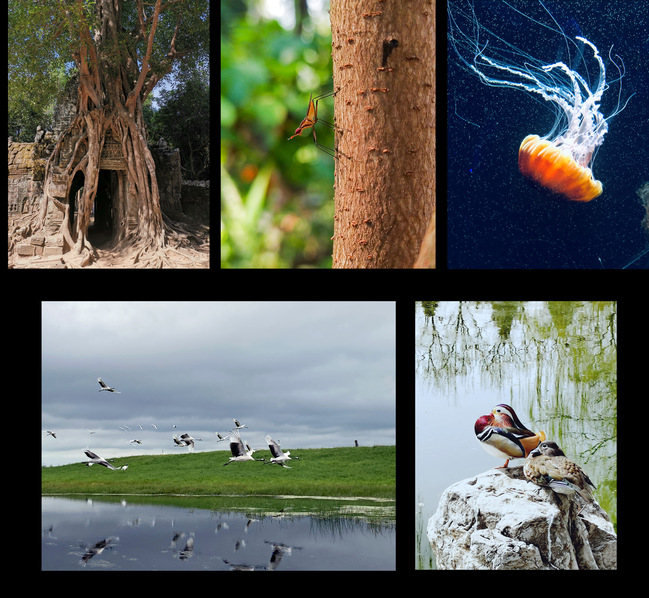 2nd & 3rd prize smartphone photographs
A diverse panel of judges from the fields of natural history, visual arts, and photography evaluated the submissions for the contest. They are, in alphabetical order, LIU Huajie, Peking University philosophy professor and natural history expert; MIAO Chunxia, senior director of the Tencent Platform & Content Group; NAN Zhaoxu, natural history expert and author of Field Notes From A Natural Shenzhen; WANG Hongwei, professor at the Academy of Arts & Design, Tsinghua University; XIAO Yong, professor at the School of Design, Central Academy of Fine Arts and 2008 Beijing Olympics medal designer; and YANG Xiang, deputy director of the Photography Professionals Committee of the China Society of Motion Picture and Television Engineers.
Overall, the judges offered positive feedback on the submitted photographs and believed the contest would help to bring awareness to biodiversity. One of the judges, Professor LIU Huajie shared, "This contest is extremely timely and aims to connect two worlds, helping students to understand more about natural history and look to the future. It is extremely meaningful." Professor XIAO Yong, also a judge on the panel, emphasized how the competition reflected the shared community of human beings and other living things: "The submitted photographs exhibited the beauty of biodiversity. Through the lens, they explored the vitality of living things that co-exist with humans. They also offered insight into different special characteristics and forms of living beings. They used their cameras to bring the distance between humans and nature closer. The photos not only remind us of nature's beauty but also the awe we experience in it."
The photo contest and exhibition come at a time when biodiversity is being discussed on a global scale. In 2019, the UN published a report on global biodiversity and ecosystems that drew attention to the severe impact of human actions on animal and plant habitats. As a result, the first part of the UN Biodiversity Conference (COP 15) was held in Kunming, Yunnan, China in October 2021. At the event, delegates were committed to negotiating a post-2020 global biodiversity framework. The second part of COP 15 is set to take place later this year. The "Community of Life: Biodiversity Through the Lens" Photo Contest is part of this global effort to bring attention to the critical issue of biodiversity.
As a vivid and creative reflection of this global effort, the winning photographs have brought awareness to the importance of biodiversity protection in the AUA community and beyond. Congratulations to the contest winners!
Winner's List
Digital Camera Category
First Prize:The Whisper of Cheetahs by HUANG Ziyang
Second Prize:
Smooth-coated otter during golden hour by ANG Kai Jun
A Golden Snub-nosed Monkey Looking into the Distance by YANG Shuming
Third Prize:
Warmth of Family by Hiroyuki SHIMA
Rich vibrant coral reefs settling along seawalls at East Coast Park, Singapore by Nathaniel SOON
Reflection by LAM Cheuk Heng Brian
Smartphone Category
First Prize: A Green Iguana by LI Jingyuan
Second Prize:
Different by Nugagolle Seewalee Thero
An Old Tree Undergoing Vicissitudes by WANG Haolin
Third Prize:
Flying Red-crowned Cranes by HAN Shangkun
Mandarin Duck Couples in Tsinghua by CONG Dongming
Liberated - Rhythm of the Waves by Nurhani BINTE MUHAMMAD TAHIR
About the Asian Universities Alliance
Asian Universities Alliance (AUA) was founded in Beijing on April 29, 2017. Its mission is to jointly address regional and global challenges, specifically related to higher education and economic, scientific and technological development, by strengthening collaboration among member institutions.
Since its establishment, AUA has promoted comprehensive high-level exchanges and cooperation, and has matured into a highly cohesive and influential international university organization.
In the past five years, AUA has served as a platform for regional collaboration, partnership and dialogue. Events such as the president's forum, academic and educational conferences, overseas study programs, and personnel mobility programs have promoted in-depth people-to-people exchanges.
About Tsinghua SIGS
Launched in March of 2019, Tsinghua SIGS (organizer of the contest) is a research and graduate education institution of Tsinghua University located in Shenzhen, China. Building upon Tsinghua's academic legacy and Shenzhen's innovative resources, its students and faculty are dedicated to tackling global challenges, including biodiversity, through cutting-edge research and collaboration.Through its "6+1" theme areas, it promotes interdisciplinary research and learning: Materials Science, Data Science and Information Technology, Biopharmaceutical and Health Engineering, Ocean Engineering, Future Human Habitats, Environment and Ecology, and Innovation Management.
Tsinghua SIGS strives to reshape graduate education as well as research and development to better serve local, national, regional, and global sustainable development.
---
Written by Alena Shish
Edited by Yuan Yang
Photos by contest participants