Tsinghua Shenzhen International Graduate School (Tsinghua SIGS) was born from the expansion and integration of the Graduate School at Shenzhen, Tsinghua University and the Tsinghua-Berkeley Shenzhen Institute. It aims to build an international, borderless, and entrepreneurial graduate school focusing on research in the following 6+1 theme areas: Materials Science, Data Science & Information Technology, Biopharmaceutical & Health Engineering, Ocean Engineering, Future Human Habitats, Environment & Ecology, and Innovation Management. In addition to boosting the development of Shenzhen, global development is also a vital part of SIGS's vision for a world-class graduate school.
In a complex and changing world, SIGS has been solidifying its cooperation with top-notch universities around the world, including UC Berkeley (U.S.A.) and the Technical University of Munich (Germany). It is expanding global collaboration with high-level institutions, promoting cooperation and exchanges with universities in the region via the Asian Universities Alliance (AUA), and exploring the possibility of collaborating with institutions from Africa and Latin America in all academic fields with the help of Tsinghua University, Shenzhen Foreign Affairs Office, and Chinese embassies and consulates abroad.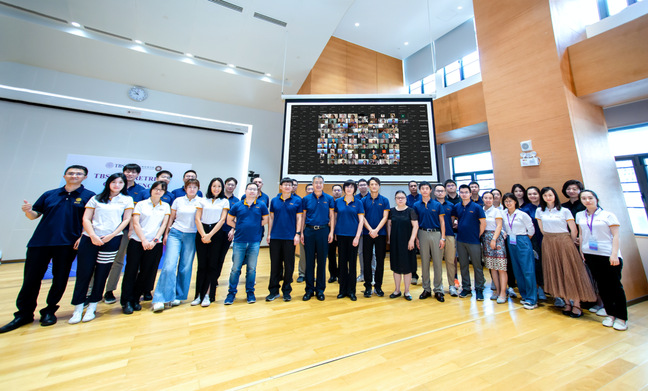 2022 TBSI Retreat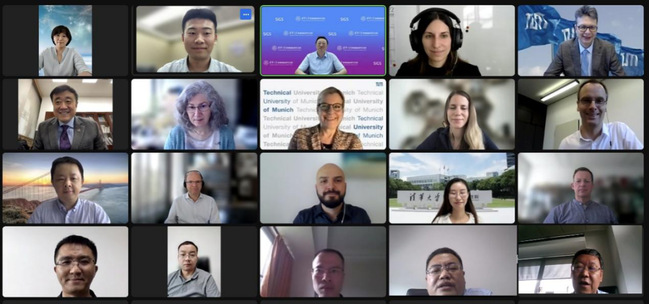 2nd Tsinghua SIGS-TUM Smart Materials Online Workshop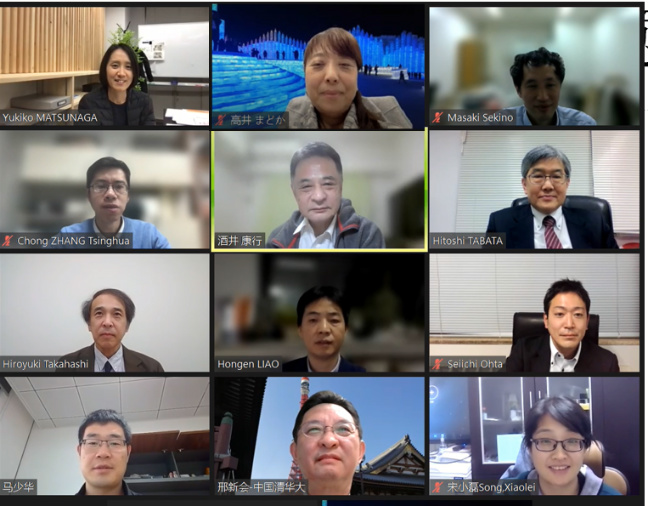 SIGS Institute of Biopharmaceutical and Health Engineering (iBHE) and professors from University of Tokyo meeting on joint PhD program
SIGS is dedicated to improving the global competence of its students. It has been actively launching joint programs with other world-renowned universities and building international research specialties and model courses. To build a diverse, multi-layer, and multi-channel overseas student exchange system, SIGS has been strengthening connections and collaboration with overseas universities, research institutes, and enterprises through exchange programs, short-term overseas study trips, summer schools, overseas internships, short-term group cultural exchanges, and internships and job opportunities in international organizations. It has also organized seminars on language, culture, and international affairs to enhance students' global vision.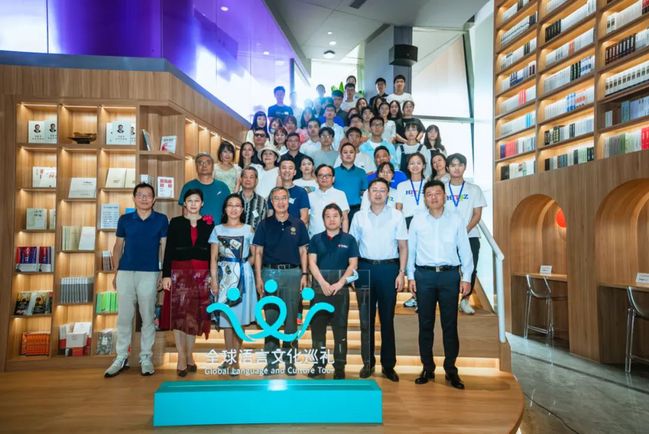 "World Languages & Cultures Tour" Lecture Series
Through cultural events and social activities, SIGS also helps international students learn about Chinese culture, the growth and development of Shenzhen, and the great changes China has been through since its Reform and Opening-up. SIGS has been actively promoting resource-sharing and integration among universities, communities, and enterprises, leveraging its unique advantages for student education, and working with the Shenzhen Municipal Government in various fields, including the development of the Shenzhen International Block Initiative.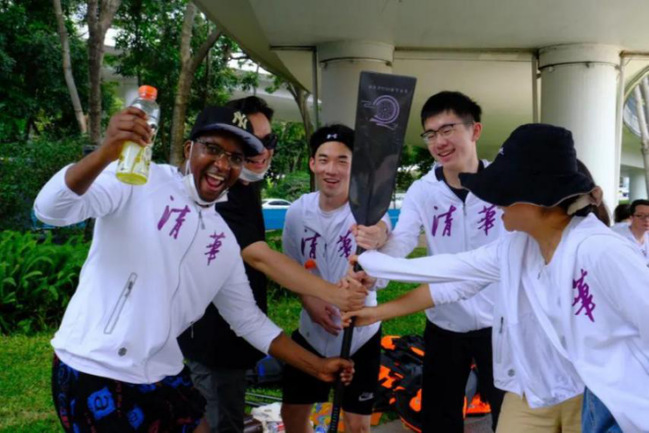 International students at the 2022 Dragon Boat Festival boat race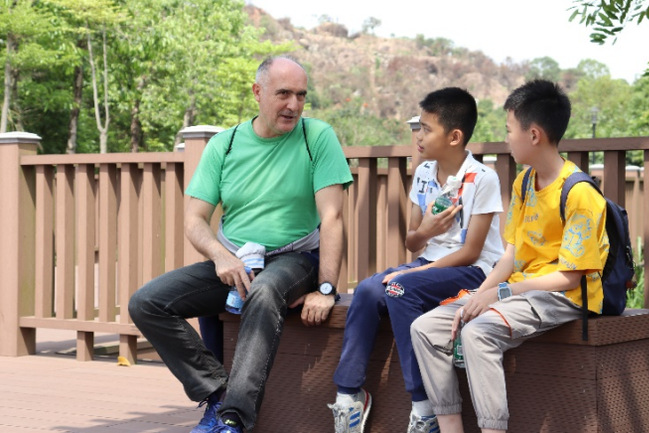 SIGS professor talking with local community members
The SIGS Phase I Construction Project features a shared space of around 1,300 m2 for self-study, reading, exchange and discussion, item storage, and copy and printing as well as various shared spaces, such as a kitchen, gym, activity center, common areas, and a dance room. These facilities provide professors and students with a multi-dimensional cultural and leisure services space, facilitating cross-cultural exchanges and integration.
The Campus Services Center and the International Students & Scholars Center are located next to each other to provide "one-stop" campus services for international students and faculty. They promote global campus through digital systems, which satisfy the requirements of mobile work and bilingualization, including in housing management. With this system, all students and faculty can look up housing information and pay fees conveniently.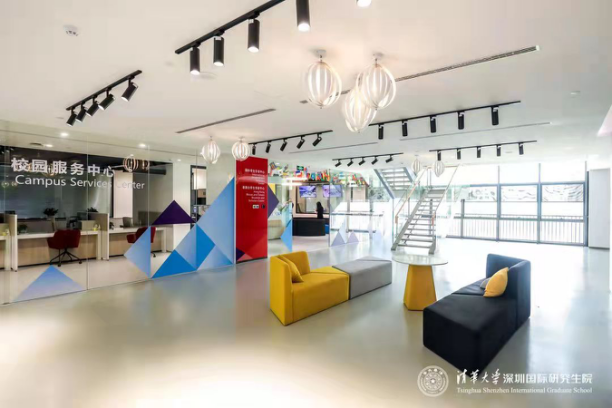 The Campus Services Center and the International Students & Scholars Center
Bilingual signage, including road signs, maps and door signs will continue to be provided across the campus with unified VI design to elevate the international image of the campus and facilitate daily life on the campus for both Chinese and international students and faculty.
SIGS has also been expanding its global communication channels, constantly improving its English website and optimizing content for a better browsing experience. Campus news is frequently updated on its overseas social media accounts to strengthen connections with its students and faculty. Now, the formerly printed "SIGS Newsletter" has become "Tsinghua SIGS Weekly" (an e-newsletter) with optimized content in Chinese and English, bringing updates about the development of SIGS to those who care.
From January to April 2022, SIGS organized the AUA Biodiversity Photography Contest to promote cultural exchange among Asian universities, awarding 12 excellent work prizes after two rounds of selection. To further extend the influence of the contest, SIGS, AUA and the Shenzhen Foundation for International Exchange and Cooperation (SFIEC) co-hosted the AUA Biodiversity Photography Exhibition with 100 works on display, calling for public participation in biodiversity protection.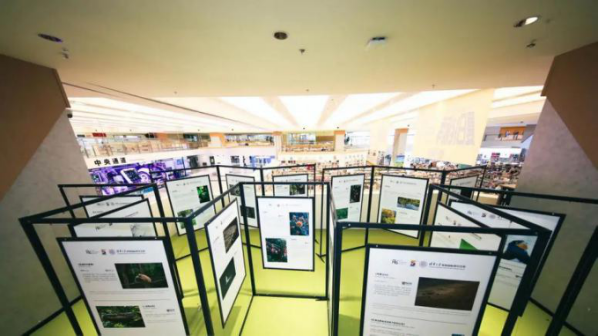 AUA Biodiversity Photography Exhibition at Shenzhen Central Book City
In September 2021, SIGS adopted a bilingual format for its administrative documents. This change aims to improve the efficiency of administrative procedures for international students and faculty and raise the standard of service of its administration team, with the goal of better attracting and retaining international students and faculty.
SIGS also worked on building a high-level, international, efficient, and well-trained global affairs liaison team and improving its cross-cultural communication ability via regular professional training, work seminars, and cross-cultural events.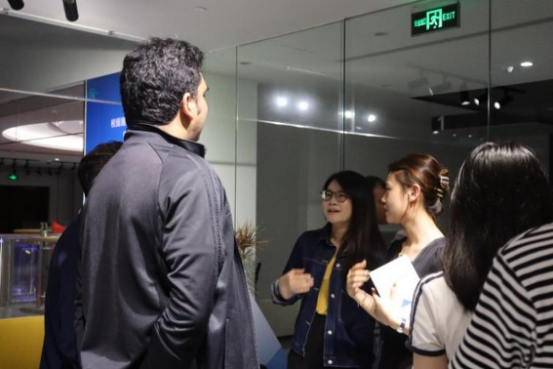 Global affairs liaison officer at a cross-cultural exchange event
SIGS aims to become more international, open, inclusive, and resilient. At SIGS, the Tsinghua motto of "Self-Discipline and Social Commitment" meets the innovative spirit of the Shenzhen Special Economic Zone. Echoing the development of the Greater Bay Area and the mission to build a world-class university and disciplines, SIGS will actively explore new ways of school operation via high-level international cooperation initiatives, high-level talent cultivation, and high-quality innovative practices to support national development and tackle global challenges with innovation and openness.

Source: Tsinghua University News