The 3rd International Interdisciplinary Innovation Forum was hosted by Tsinghua SIGS on November 3, 2022, via livestream and attracted over three hundred scholars. The forum aims to promote interdisciplinary academic exchange and innovation in education as well as bring together and recruit talented scholars.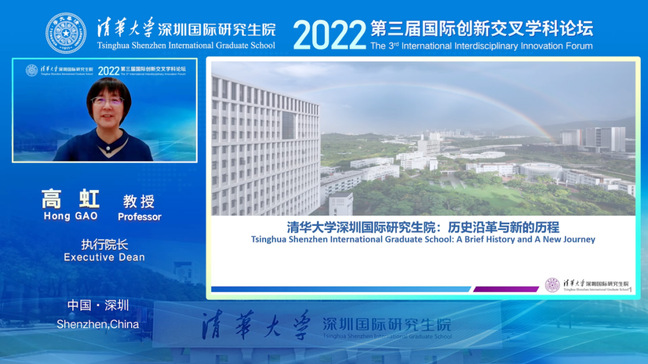 SIGS Executive Dean Gao Hong delivered opening remarks on behalf of Tsinghua SIGS. She welcomed scholars from all over the world who participated in the forum. She also introduced the history and future development of the school.

After, Associate Dean Victor Chan introduced recruitment and benefits information as well as faculty support. Associate Dean Ma Lan introduced research at SIGS, including information about research institutions and platforms, research support, and industry cooperation. He Yonghong, director of the Office of Academic Affairs, introduced admissions policies, teaching modes, and internationalized training at the school.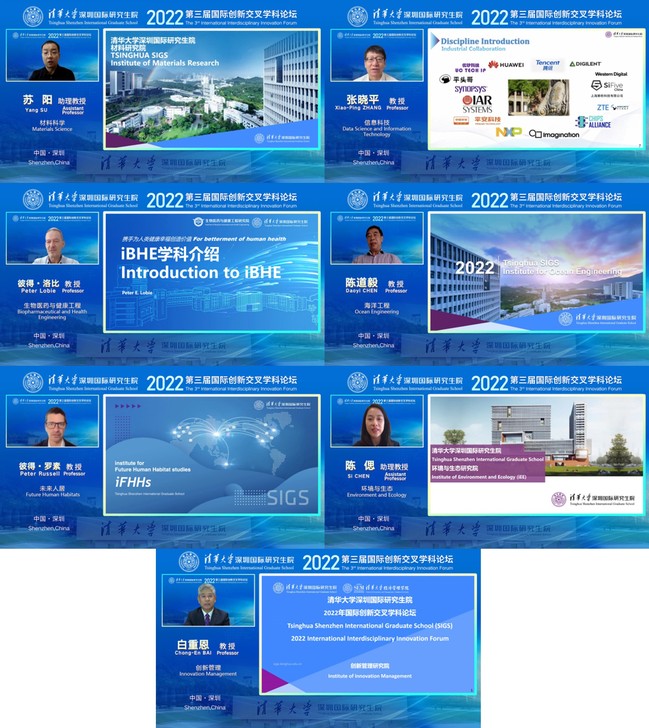 At the event, Assistant Professor Su Yang, Professor Zhang Xiaoping, Professor Peter E. Lobie, Professor Chen Daoyi, Professor Peter Russell, Assistant Professor Chen Si, and Professor Bai Chong'en represented the school's 6+1 interdisciplinary theme areas, Materials Science, Data Science and Information Technology, Biopharmaceutical and Health Engineering, Ocean Engineering, Future Human Habitats, Environment and Ecology, and Innovation Management, respectively. They offered introductions about research fields, faculty, scientific research, and recruitment in their respective disciplines.
Professor Wang Yong from the Institute for Ocean Engineering and Assistant Professor Han Sanyang from the Institute of Biopharmaceutical and Health Engineering, as faculty representatives, shared about their educational backgrounds, work experiences, research fields, and experiences at SIGS.

To meet the needs of scholars who were unable to watch the livestream, a recording of the event is available via the following link: https://live.9151.com.cn/watch/3493905
---
Edited by Alena Shish & Yuan Yang