Over 60 representatives from over 30 countries and regions visited the SIGS campus on August 23 as part of the Tsinghua Global Youth Dialogue. Participants toured our school's ocean engineering, architecture, and AI-related labs and participated in cultural activities, including tea drinking and calligraphy.
VADIM KUZNETSOV from Russia and Oyungerel Munkhbat from Mongolia, who had previously only been to Beijing, believed that the Tsinghua Global Youth Dialogue in Shenzhen helped the young participants find common ground to address global challenges and broaden their knowledge of China's latest developments.
On Wednesday, the last day of their four-day stay in Shenzhen, the two young participants shared their thoughts during a Chinese cultural experience session with Shenzhen Daily at the Tsinghua Shenzhen International Graduate School in Nanshan District.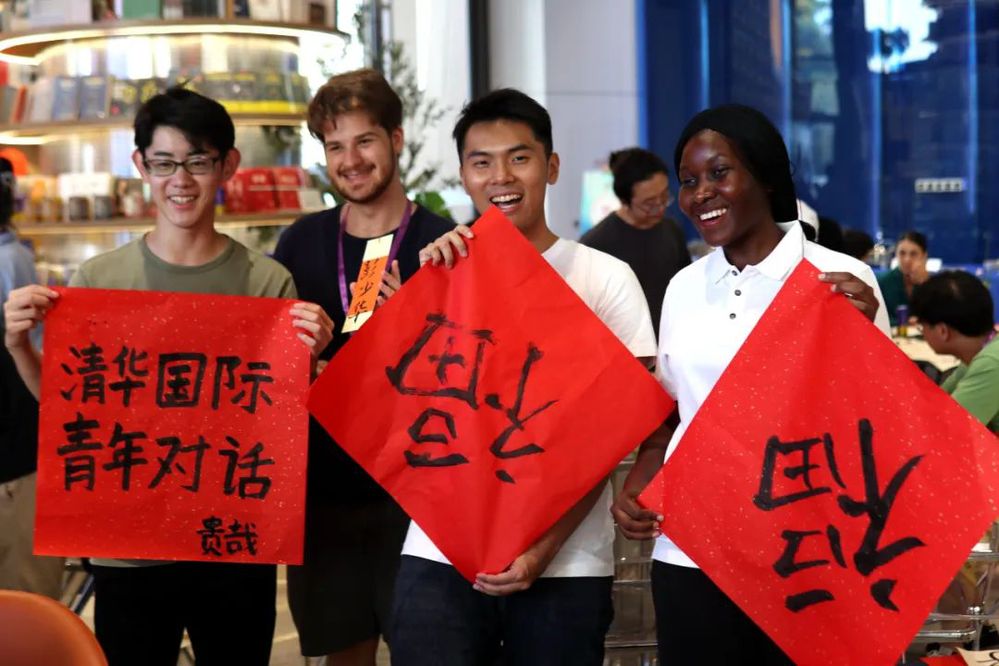 Participants to the Tsinghua Global Youth Dialogue pose for a photo holding Chinese calligraphy works they created during a Chinese cultural experience session at Tsinghua Shenzhen International Graduate School on Wednesday. Yang Mei
The Shenzhen leg of the event featured four days of stimulating discussions, visits to major companies such as Tencent and BYD, and iconic tech and innovation institutions such as the Meituan Big Data Operation Center. These activities allowed the young representatives to feel the pulse of the city's innovation and entrepreneurship ecosystem, gain a better understanding of the digital economy and appreciate the importance of cultural exchanges and mutual learning.
The ongoing Tsinghua Global Youth Dialogue, which is held under the purpose of "Empowering the Youth of Tomorrow, Shaping the Future for the Youth" and the theme of "United Youth, Shared Future," has brought together 60 or so participants from more than 30 countries and regions. These young leaders from various multilateral mechanisms, such as the U.N. Sustainable Development Goals (U.N. SDGs), the G20, BRICS, Shanghai Cooperation Organization and ASEAN, represent a diverse range of backgrounds including academia, entrepreneurship, technology, policymaking and social activism. Outstanding youth representatives from renowned overseas institutions such as Harvard University, Yale University, Stanford University, University of California, Berkeley, University of Pennsylvania and HEC Paris were also in attendance.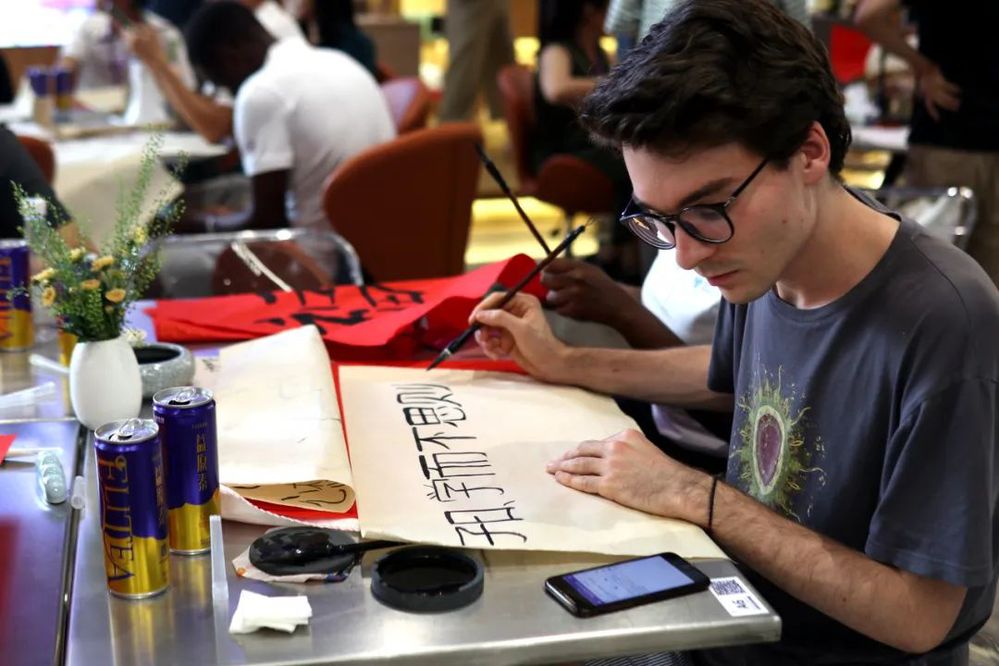 Vadim Kuznetsov from Russia writes Chinese calligraphy with a brush.
Kuznetsov, 22, is the director for Sustainability and Climate Initiatives at BRICS Youth Energy Agency, while Munkhbat, 25, serves as a U.N. Youth Delegate for Mongolia. Both of them were deeply impressed by BYD's commitment to innovation and its shift to the health care sector during the COVID-19 period.
"BYD is very impressive because it has so many R&D centers. It's creating so many patents and innovations into every single detail," Munkhbat said.
"We've heard about the contribution that BYD has done during COVID in terms of massive mask production and so on. It's always interesting to learn how innovation in one field can then get into another as a spillover effect," Kuznetsov noted.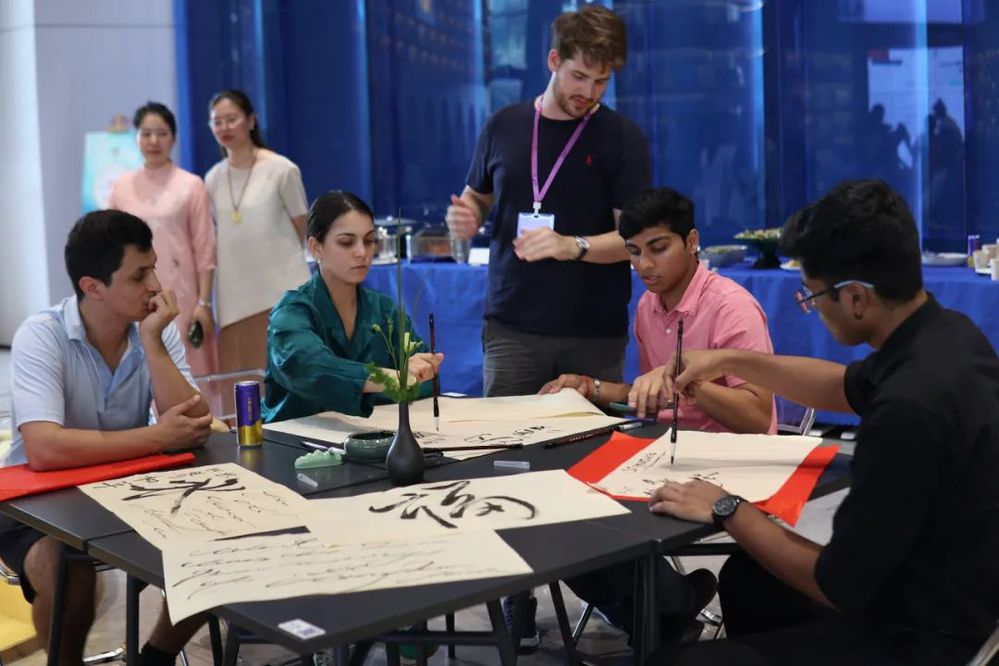 Participants to the Tsinghua Global Youth Dialogue in Shenzhen write Chinese calligraphy with brushes during a Chinese cultural experience session Wednesday.
Munkhbat said she was grateful to attend the dialog where different perspectives on the development were shared. "If I individually saw all of China's development, I don't think I would have had as much insights as I would have done, so the international aspect of the dialog would definitely play a role in it."
Kuznetsov found his Shenzhen trip well-balanced with both business-oriented and education-oriented visits. "I'm very honored to be amongst the first international delegates who participate in the forum. We hope it can become a long-lasting tradition that would then encompass new generations of young world leaders," he said.
Munkhbat, also founder of startup company Airee, which develops eco-friendly air filters using sheep wool, was particularly amazed by the circular solutions in Shenzhen's waste management system, saying "Everyone talks more about the innovation aspect, but I like the circular solutions, which has become a buzzword in the city."
During Wednesday's cultural experience session, Kuznetsov proudly showed Shenzhen Daily his first-time calligraphy work that read Confucius's famous quote "学而不思则罔,思而不学则殆 (Learning without thought is labor lost; thought without learning is perilous)."
The young man said that he is interested in Chinese culture because it's one of the most ancient and greatest civilizations in the world. "I've just tried Chinese calligraphy for the first time in my life, I can truly say that it does inspire me to start learning Chinese," he said.
The inaugural Tsinghua Global Youth Dialogue, hosted by Tsinghua University and coordinated by Astana International University in Kazakhstan and Universitas Gadjah Mada in Indonesia, started in Shenzhen on Aug. 20 and will be continued in Chengdu and Beijing next week.
On Aug. 29 and 30, delegates will gather at Tsinghua University in Beijing to exchange and conduct a dialogue on topics such as artificial intelligence and the digital economy, climate change and sustainable development, and people-to-people exchanges.
Source: Shenzhen Daily