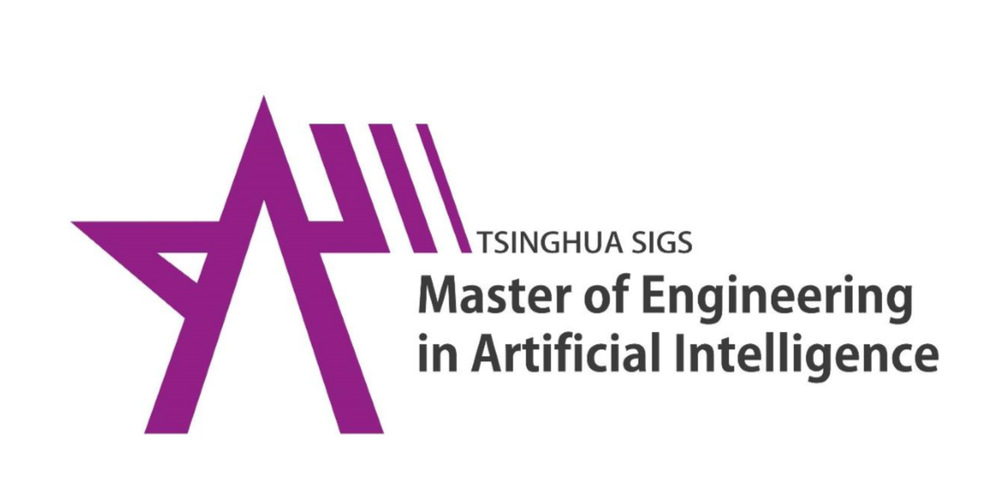 1. About us
Artificial Intelligence (AI) Program is one of the most popular master's programs at SIGS. Our program outstands as the key development area of Tsinghua-SIGS's 6+1 discipline layout.
Faculty: The AI Program integrates the faculty and scientific research platform of superior disciplines in Tsinghua, such as Automation, Computer Science, and Electronic Communication. Most of our full-time teachers enrich the background of studying and working in well-known overseas universities, the experience of presiding over national-level projects, and scientific research. (For more information: https://ai.sigs.tsinghua.edu.cn/faculty)

Research platform: Our research platform includes Intelligent Computing Laboratory, Future Media Laboratory, Human-machine voice interaction laboratory, AI Robotics, and Intelligent Transportation. Laboratories, etc. These research platforms provide significant input for our renowned Professors and their research teams in pursuance of research excellence in the field.

Industry cooperation: We attach great importance to the combination of talent training and industry needs. We have established a joint training platform with well-known AI leading companies such as Alibaba, Tencent, ByteDance, SenseTime, Parametrix technology,Huawei, Ping An, Meituan, UBTECH, Sangfor, etc., These industry platforms provide strong support for students to carry out high-level professional practice and application scenarios leading-in teaching system.

Student achievement: Our students have published a series of papers in top academic conferences such as CVPR, NeurIPS, ICML, ICDE, IJCAI, AAAI, ACL, ACMMM, ICRA, IROS, CDC, ACC, IFAC and authoritative journals such as PAMI, TFS and TNNLS, and have won many honors such as the best papers of the conferences and excellent master's thesis of Tsinghua University. Graduates are concentrated in leading companies in artificial intelligence-related high-tech industries, and a group of outstanding students goes to world-class universities for further study.
2. Mission
We aim to cultivate students to master strong professional knowledge and skills, enhance creativity and cross-field collaboration, develop an international and global system perspective, foster foresight and predictive capabilities, solve practical problems, undertake professional technical/management work and build up a comprehensive professional quality of Artificial Intelligence among high-level applied professionals and entrepreneurial talents.
3. What makes M ·E ·AI different
Demand-oriented and application-driven: We are guided by the application of Artificial Intelligence in the industry, expand core technologies and innovative methods, realize the empowerment and transformation of Artificial Intelligence in related disciplines, and form a compound talent training model of AI + X.

Project traction and diversified support: We serve and support the mission requirements of major national projects and major development plans, while coordinating the layout of multi-disciplinary interdisciplinary theoretical foundations, algorithms, software and integrated circuit design, and other production-education integration innovation platforms and talent training bases.

Cross-industry integration and precision training: We deepen the cross-integration of artificial Intelligence and basic sciences, information sciences, medicine, philosophy, and social sciences, and other related disciplines. At the same time, we strengthen the integration of industry and education and build a community of independent innovation and talent training. We help our talents by promoting their skills and meeting the expectations of industrial human resources.
4. Talent training path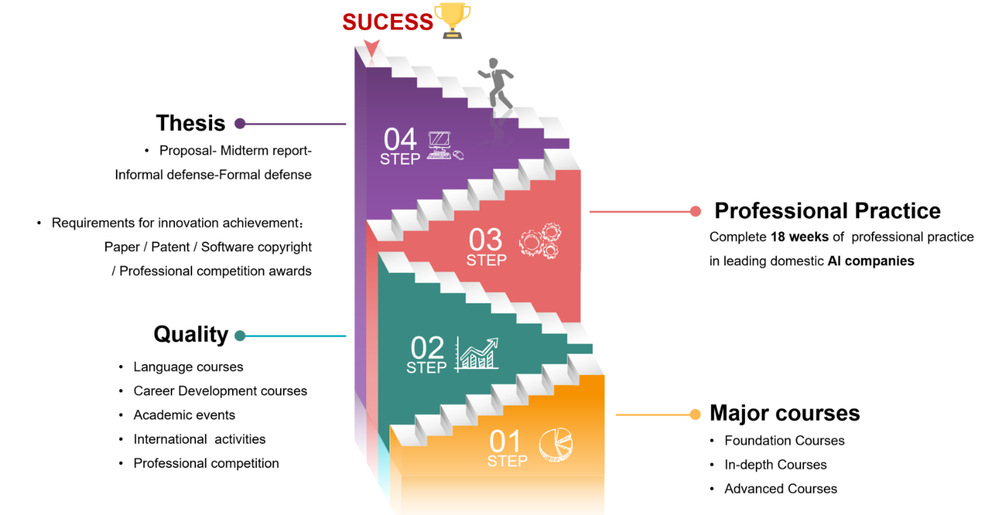 5. Language Requirement:
HSK4 195 or above
6. Tuition Fee
33000RMB / year
7. Financial Aid System
Tsinghua University has established a comprehensive financial aid system for outstanding full-time international graduate students, which consists of scholarships, assistantships, and awards.
Scholarships

At present, Tsinghua University mainly provides the following scholarships for outstanding prospective full-time international graduate students.

Chinese Government Scholarship (CGS).

The Full CGS, usually covers tuition, *stipend, accommodation, and medical insurance. The Partial CGS includes one or some items from the Full CGS coverage. Annual Review is strictly required for all CGS holders.

*The distribution of CGS will be adjusted according to the policies and regulations of higher authorities.

Tuition Scholarships, for example, the Beijing Government Scholarship for International Students and Tsinghua University Tuition Scholarship, cover full or partial tuition fees for a duration of one academic year. Applicants may apply for Tuition Scholarships annually (competitive).

Assistantships

Tsinghua University offers opportunities for Teaching Assistantship, Research Assistantships, and Management Assistantship for current graduate students. Usually, applications for assistantships are open in the beginning of each semester.

Awards and Honors

Outstanding current Chinese and international graduate students can compete for awards and honors at Tsinghua University. The reward and honor system includes Top Grade Award, Jiang Nanxiang Award, Graduate Students All-Round Excellence Awards, Specialized Awards, school/department awards, and Outstanding Doctoral and Master's Graduates of Tsinghua University.

For more: https://yz.tsinghua.edu.cn/en/Financial_Aid/Financial_Aid_System.htm
8. How to apply M ·E ·AI
Application for graduate admission:http://gradadmission.tsinghua.edu.cn/f/login
| | |
| --- | --- |
| Category | Master'sPrograms |
| School | TsinghuaShenzhenInternationalGraduateSchool |
| Major | ElectronicInformation |
| Program | Artificial Intelligence |
9. Contact
Tel: +86-0755-86717869
Mail: meai@sz.tsinghua.edu.cn

WeChat: