Editor's note:
The recruitment and retention of talented and ambitious faculty are important priorities at Tsinghua SIGS. A lot of internationally recognized scholars and promising young talents have joined SIGS over the past year. We have launched a series called "Voices from SIGS │New PIs" to share about their lives and academic research and help the SIGS community get to know them better.
Recently, we sat down for an interview with Dr. Faisal Nadeem Khan, one of our campus's new PIs.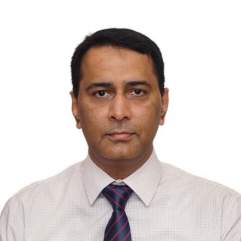 Faisal Nadeem Khan received a B.Sc. degree in electrical engineering (with Honours) from the University of Engineering and Technology Taxila, Pakistan, an M.Sc. degree in communications technology from Ulm University, Germany, and a Ph.D. degree in electronic and information engineering from The Hong Kong Polytechnic University, Hong Kong. From 2012 to 2015, he was a Senior Lecturer at the School of Electrical and Electronic Engineering of the University of Science Malaysia. Dr. Khan worked as a Research Fellow at the Photonics Research Centre, The Hong Kong Polytechnic University from 2015 to 2020. Currently, he is an Associate Professor at Tsinghua Shenzhen International Graduate School, Tsinghua University. His research interests include machine learning and digital signal processing techniques for high-speed optical communication systems. Associate Prof. Khan has authored or coauthored around 60 research articles in leading journals (including several invited papers) and key conferences. He has written three book chapters; one book is currently in press to be published by Academic Press/Elsevier. He has been an invited speaker at various prestigious international conferences including Optical Fiber Communication (OFC, 2018), European Conference on Optical Communication (ECOC, 2021), among others.
◇
What has brought you to Tsinghua SIGS?
Before I joined Tsinghua SIGS, I had kept an eye on Tsinghua University's move to set up a campus in Shenzhen. As everyone knows, Tsinghua University is one of China's world-renowned universities, devoted to excellence in teaching, learning, and research. Being part of its facultywould be an extraordinary experience.
Shenzhen is a city full of opportunities and challenges. I chose it because of several reasons. First, Shenzhen is China's tech hub, home to a whole lot of companies in a wide range of high-tech industries. I hope to cooperate with some of them in the near future. Second, the local government attaches huge importance to research and development as it tries to drive growth and boost the regional economy. Thus, Shenzhen is a good place to do research. Third, as the Greater Bay Area develops, many scholars, including some of my peers, are settling down at universities in Shenzhen and Guangzhou to pursue a research career. I hope I can interact and cooperate with them more often. In a nutshell, Shenzhen is surprisingly attractive for its dynamic research environment and promising future.
I am greatly honored to be part of Tsinghua SIGS, which has a global vision and an open academic atmosphere. There are a lot of teachers and students from outside China, so I do not feel I am alone here.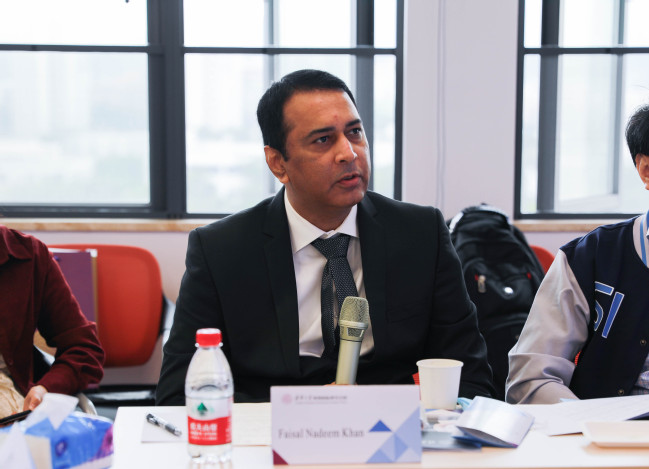 You have spent nearly a half year at Tsinghua SIGS. What do you think of the campus and what do you expect in the future?
Over the past half year, my experience on campus has far exceeded my expectations.
I can be immersed in an academic environment of unlimited possibilities, with full support for teaching and research, complete with really efficient administrative services. I have seen the school's every effort to go global. At Tsinghua SIGS, I can use English to teach courses, communicate with students from all around the world, and collaborate with teachers or scholars on research.
Research cannot go on without adequate resources and a diverse pool of talented students. Here, I have met the best students and got a lot of support from them. The school boasts a good academic atmosphere where I have enough freedom in my research. That is similar to what I enjoyed at universities where I worked before.
I hope to succeed in this new role, and I will make relentless efforts in research. I want to form a world-class research team on smart telecommunication networks here, one known for its excellent research and innovation. It's also my hope to cooperate with research centers of the local governments and industries in this region, such as the Peng Cheng Laboratory in Shenzhen and Southern Marine Science and Engineering Guangdong Laboratory in Zhuhai.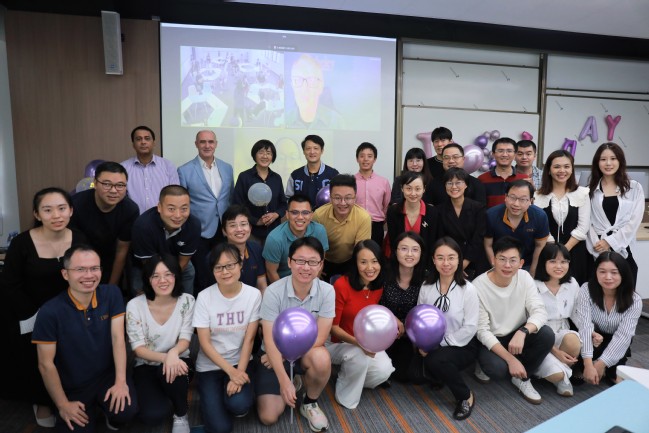 ◇
We felt Faisal's meticulousness as a researcher in the interview. For better communication, he prepared an outline for possible questions and answers prior to the interview and brought us a copy of it. He also gave many useful opinions and suggestions.
In the eyes of his students, he is easy-going and always willing to talk, just like a friend. He shares his ideas about academic problems or everyday issues, such as paper submission and doctorate application. Apart from that, he does not compromiseon academic matters, offering candid, constructive comments on research topics selected by students. Li Zhi, one of his students, said that Faisal is a perfect supervisor.
At SIGS, we believe that an open campus is sure to attract more talented international scholars like Dr. Khan. We wish them all a rewarding, fruitful career at Tsinghua SIGS!
---
Source: Office of Human Resources

Edited by Alena Shish & Yuan Yang